Quoting NewsBusters.org
(I inserted the link):
"At the end of President Barack Obama's statement Wednesday morning concerning a number of pending bills before Congress, House Speaker Nancy Pelosi (D-Cal.) interrupted him to offer some truly sycophantic praise about all the good he's doing for the nation:

'You, under your leadership and working with this Congress, have done more to promote healthcare to move it along, prevention, technology, the biomedical research, children's health, veterans' health, than has been done in our country since Medicare was established in the '50s.'

Medicare was established in the '50s?

Um, no Madame Speaker, for Medicare and Medicaid were both established under the Social Security Act of 1965."
Click the Bimbo's image & read the rest:
Geez! This bimbo is two heartbeats away from the Presidency?
I can hardly wait for Tina Fey and Jon Stewart to expose how stupid and ignorant this bimbo is -- you know, kinda like the
utterly dishonest
hatchet job those two did on Sarah Palin -- the hatchet job that so many equally moronic voters fell for. Maybe Katie (the bimbo) Couric will do a cut and paste hatchet job interview so as to let the voters know what a moron we have as Speaker of the House.
Yeah, sure…
Maybe in some alternative universe that might happen, but not in this one.
Click here to learn why the Social Security Act of 1965
was the beginning of the end for the USA.

Click the following chart for the CNN calculator which
confirms that Medicare robs the poor to give to the rich: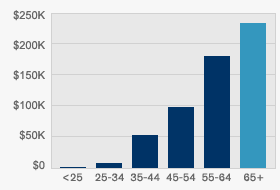 Click here to learn how the moronic trio of Obama, Pelosi and Reid
is hastening our certain demise.