Quoting Jay Cost at RealClearPolitics
(emphasis mine):
"First off, note Obama's drop-off among young people. Young people were supposed to be a critical component of the new Democratic majority. Granted their approval is still slightly higher than the other groups, but it has far and away been the most volatile, dropping more than any other. This should not come as a huge surprise. Baby Boomers were partial to McGovern in 1972, but swung around to Reagan in the 80s. Young people's political dispositions are still being formed.

Yet, Obama's worst poll number here is actually his share among seniors. I'm guessing it relates to the health care debate. The White House should be very concerned, and for one simple reason: seniors vote."
How does that saying go?
Fool me once…
How does the rest go?

Adios Dims!
And, GOOD FREAKING RIDDANCE!
Click the image & read the rest: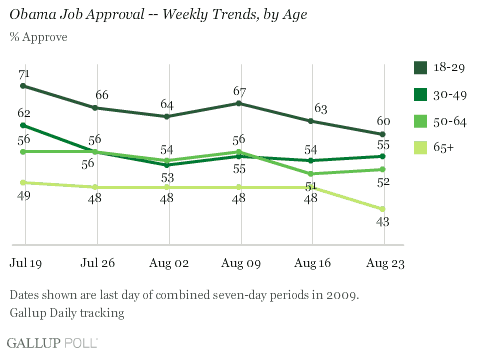 I wonder if young people are waking up to the realization that Dims
want to require them
-- through force of law -- to purchase health insurance. Are they aware that failure to do so could result in a $1,900 fine? Do they know that failure to pay that fine could result in a $25,000
"penalty"
OR a year in jail?
Hey! Kids! How's that hopey changey thing working out for you?
Don't feel too bad. Most of us were young and stupid once. Some of us even voted for McGovern. But, back then, the adults were smart enough not to fall for his lunacy.
Today? Well, today we might need the more rapidly awakening kids to educate some of the still slumbering adults.