Obama's approval index is now minus 21.
Approval index = strongly approve - strongly disapprove.

Click the image to view the source data: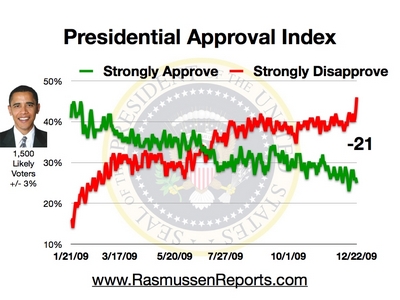 Rasmussen notes
(in a link which changes every day):
"For the second straight day, the update shows the highest level of Strong Disapproval yet recorded for this President [46%]. That negative rating had never topped 42% before yesterday. However, it has risen dramatically since the Senate found 60 votes to move forward with the proposed health care reform legislation. Most voters (55%) oppose the health care legislation and senior citizens are even more likely than younger voters to dislike the plan."
This extremely high level for strong disapproval comes as Senate Democrats arrogantly defied
the will of the people
and -- in a
purely partisan vote
-- crossed the last big hurdle in the process that will likely see the
tyrannical travesty of ObamaCare
passed by the Senate on Christmas Eve.
Media malpractice got Obama elected.
But, the people now see Obama for what he really is.
They also see the Dim Congress for what they really are.