Quoting JoNova (I inserted the links & added emphasis):
"The world is considering a new financial market larger than any commodity, it's 'based on science', but if you ask for evidence, you're called names—'Denier', and by our Prime Minister, no less. This is supposed to pass for reasoned debate? […]

It's as if calling someone a 'denier' replaces 100,000 radiosonde readings, 6,000 boreholes, 30 years of satellite results and ice cores that go back to a time before homo sapiens was sapien. These things are evidence, but a manufactured 'consensus' from a self serving committee is not. 'Denier' is an insult, a cheap attempt to bully dissent into submission…

Nothing bar anything is going the right way for the carbonistas. The ice cores show that temperature controls carbon and not the other way around. One hockey stick graph was based on one freak tree in northern Russia, the other used statistical tricks that create hockey sticks from random noise. The East Anglia CRU has lost the entire raw data set of global temperatures. The whole set?! The carbon crisis charade has become a farce…

The meaningless consensus is fake in any case. Thirty thousand scientists have signed their names against the theory of man-made catastrophe, that includes a Nobel prize winner, 9,000 PhD's, and countless professors of physics, chemistry and meteorology…

Rudd is so behind the times, he makes the mistake of thinking that we 'deniers' think the evidence is 'inconclusive'. Not any more we don't. In any other branch of science this theory would be dead and buried. There are so many flaws, and so many knock-out blows, it's not possible to seriously look at the evidence and think the carbon-crisis theory has any legs left."
Click the image & read the rest: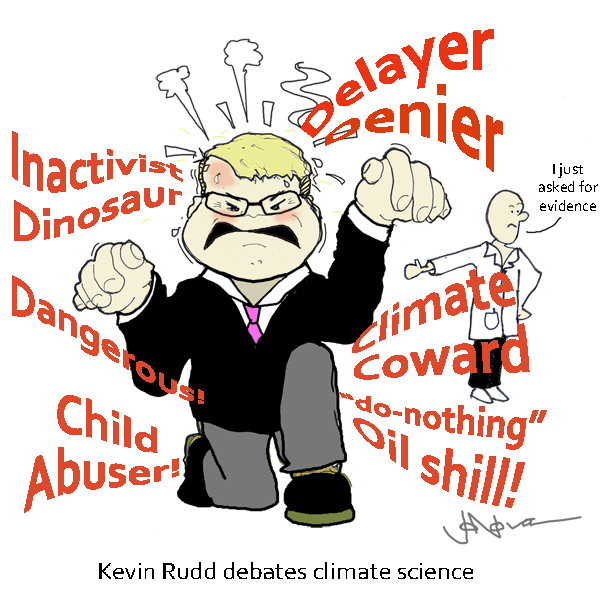 H/T: Derek Tipp & his always insightful Climate Science blog.
We are two of the unpaid volunteers JoNova speaks of.
Click here for some basic climate change science.