Think Medicare serves the poor?
Medicare robs the poor & gives to the rich.
(See the chart below.)

It also inflates health care costs
(robbing everybody a second time).

The Mafia robs everyone a third time
(exploiting the easiest scam of all).

Scamming Medicaid
is a piece of cake too.

Massive Medicare bureaucracy
robs everyone a fourth time.

Worst of all,
Medicare is bankrupting the nation.

Medicare will go broke in 2024
(5 years EARLIER than was estimated just last year).

Click the image for the CNN calculator
which produced this net worth by age chart: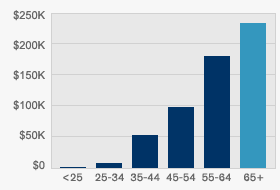 Click here if you want to fight back.